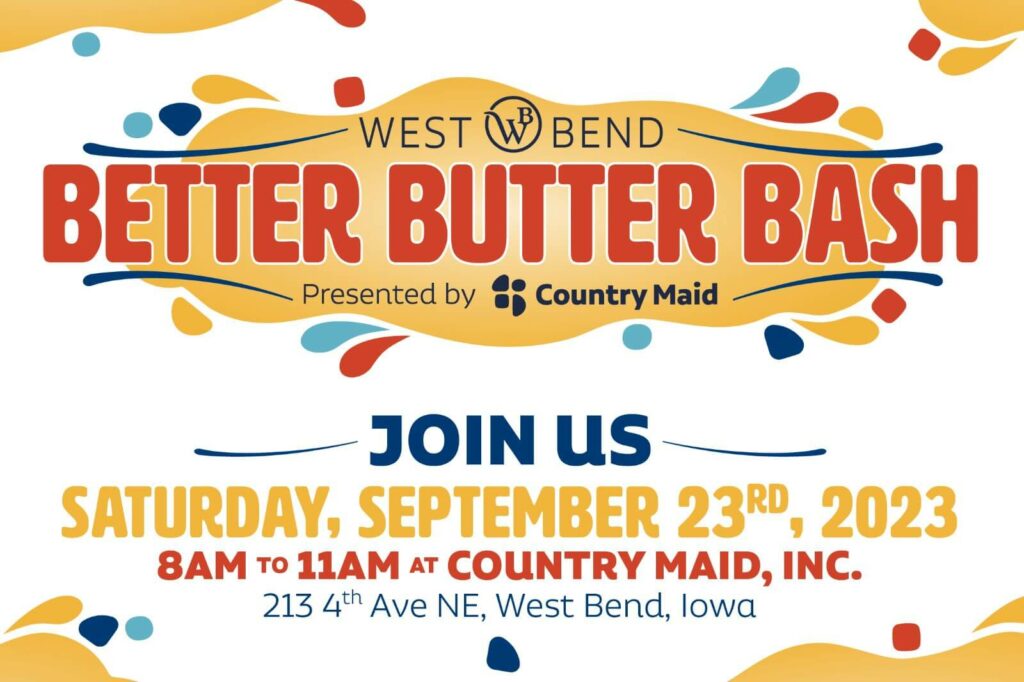 West Bend, IA (August 10, 2023) – For over 30 years, Country Maid, Inc., has been supporting non-profit organizations and local causes through its charitable giving efforts. Now, the company is furthering its mission to "Help Others Help Each Other" by presenting the first-ever West Bend Better Butter Bash. The event will support local programs whose goal is to reduce childhood hunger in Iowa.
The Better Butter Bash is scheduled to take place on September 23, 2023, from 8AM to 11AM at Country Maid's main office in West Bend, IA. There will be a variety of events for attendees to take part in, including a 5K walk/run/ride, a cake roll eating contest, a butter carving contest, scavenger hunts, and a breakfast bar.
All proceeds from the event will be given to organizations in Palo Alto and Kossuth County whose aim is to provide children of all ages with nutritious food during difficult times. In America, one in eight kids don't know where their next meal will come from, especially on weekends and holiday vacations when they don't have access to critical food programs offered by their schools. Country Maid's goal is to raise enough money from the 5K registration and free will donations to support these groups in their efforts to provide healthy meals to children in need.
"With the Better Butter Bash, we hope we can not only gather our communities together to have some fun but also draw attention to this important cause, ensuring our local children can focus on the joy of childhood without concerns stemming from food insecurity. While we know we can have an impact as a company, we understand we're BETTER TOGETHER," explains Sara Blair, Human Resources Manager at Country Maid.
Registration is required in advance for the 5K run and the butter carving contest. Otherwise, there's no pre-registration required. Parking will be available at no cost the day of the Better Butter Bash. Attendees can enter the event grounds at the Country Maid, Inc. main office from the north and follow the signs to park.
To register for the 5K run and reserve a t-shirt, visit the online registration page (Better Butter Bash 5K). If you're interested in participating in the butter carving contest, email Larae Knobloch at lknobloch@countrymaid.net.
For more information about the West Bend Better Butter Bash, visit www.countrymaid.net/better-butter-bash/
About Country Maid
Country Maid, Inc., a 100% employee-owned company, manufactures the "famous" Butter Braid® Pastry which is available only through fundraisers for the purpose of helping non-profit groups raise funds for various causes. Country Maid, together with its national network of dealerships, has helped fundraising groups across the nation raise over $320 million for thousands of worthy causes. Employing approx. 90 workers from 30 northwest Iowa communities, Country Maid continues to grow and live out its mission of "Helping Others Help Each Other".
For more information on Country Maid or its fundraising dealerships, visit www.countrymaid.net.