West Bend, Iowa (September 18, 2023) – Country Maid, Inc. has been awarded a Top Workplaces 2023 honor by Iowa Top Workplaces. Some 2,500 employers were invited to take part in the 2023 surveys; only 147 went on to make the list. Country Maid credits its place on the list to its team of employee owners and their commitment to following the company's Pillars of Achievement.
"We are honored to be recognized as one of Iowa's Top Workplaces," said Ashley Akridge, Country Maid COO and Marketing Director. "What makes Country Maid unique is our employee owners; they are committed to doing things better, and it shows in all they do. After all, you can't make extraordinary products without spectacular people."
The Top Workplace winners are chosen solely on employee feedback gathered through a third-party survey administered by employee engagement technology partner Energage LLC. The confidential survey uniquely measures 15 culture drivers that are critical to the success of any organization: alignment, execution, and connection, just to name a few.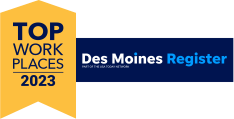 About Country Maid
Country Maid, Inc., a 100% employee-owned company, manufactures an extensive selection of premium bakery items and iconic brands that are available in both fundraising and retail markets, including the "famous" Butter Braid® Pastry. Country Maid, together with its national network of dealerships, has helped fundraising groups across the nation raise over $320 million for thousands of worthy causes. Employing over 90 workers from 30 northwest Iowa communities, Country Maid continues to grow and live out its mission of "Helping Others Help Each Other".